Posted in
Post-op
|
6 Comments »
Here's what happened during my first 24+ hours as a Tripawd! Honestly, I don't remember a lot of it!
Surgery day: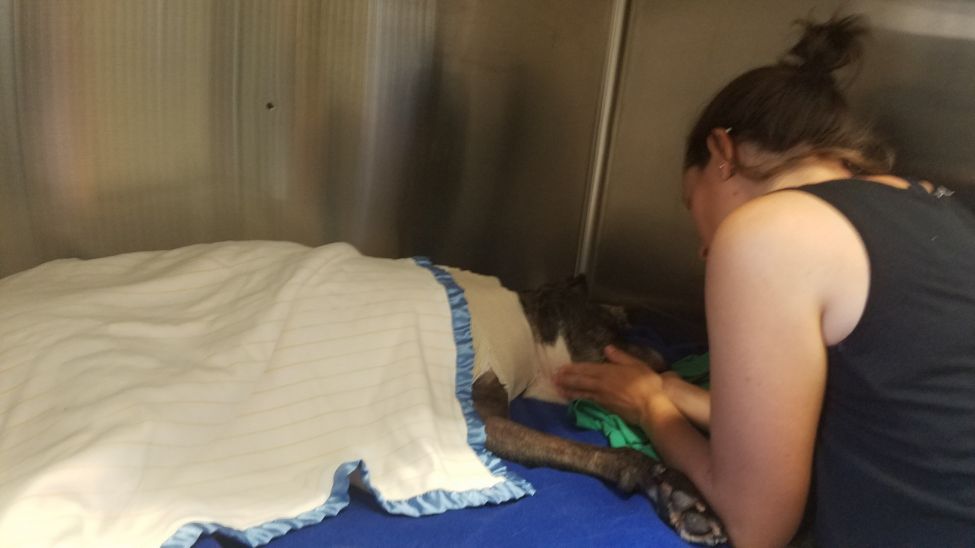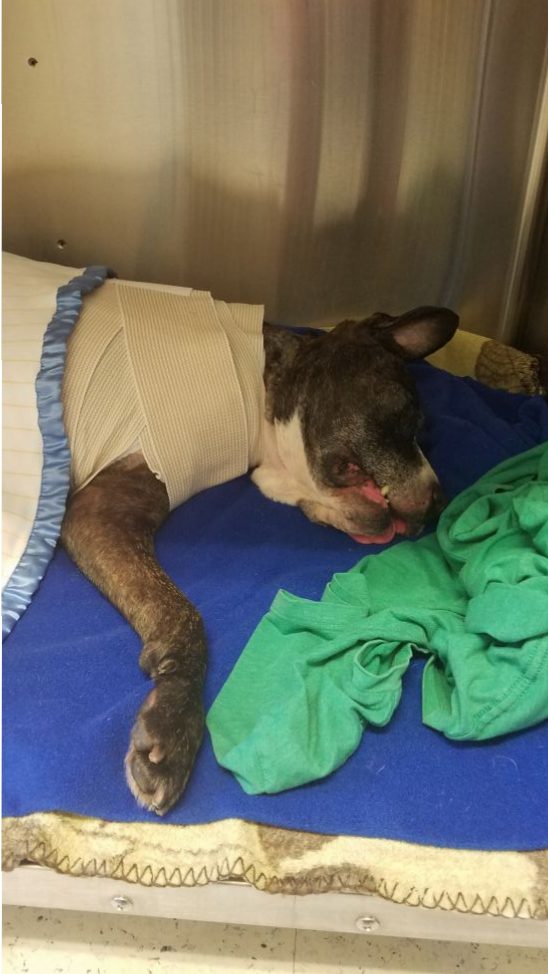 I was SNOWED! Mommy and Daddy say I stayed overnight with the vet, but that they visited me for snuggles and to leave one of Daddy's shirts so I'd feel more at home. Psh, I couldn't even keep my tongue in my mouth, let alone care what was happening!
Post-op Day 1: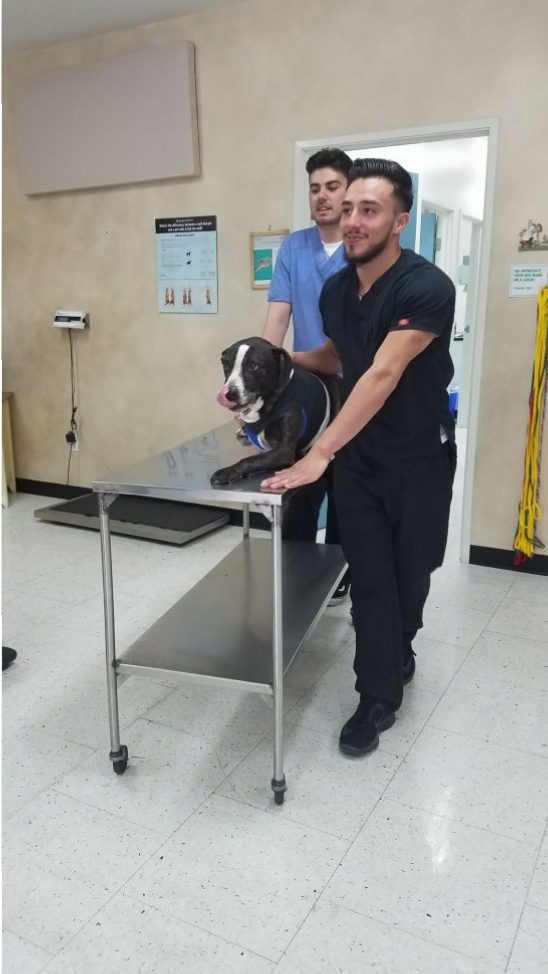 I stood up on my own when I heard it was time to go home, but these awesome vet techs escorted me in style since it would be a long walk! Clearly, I was still feeling a little loopy…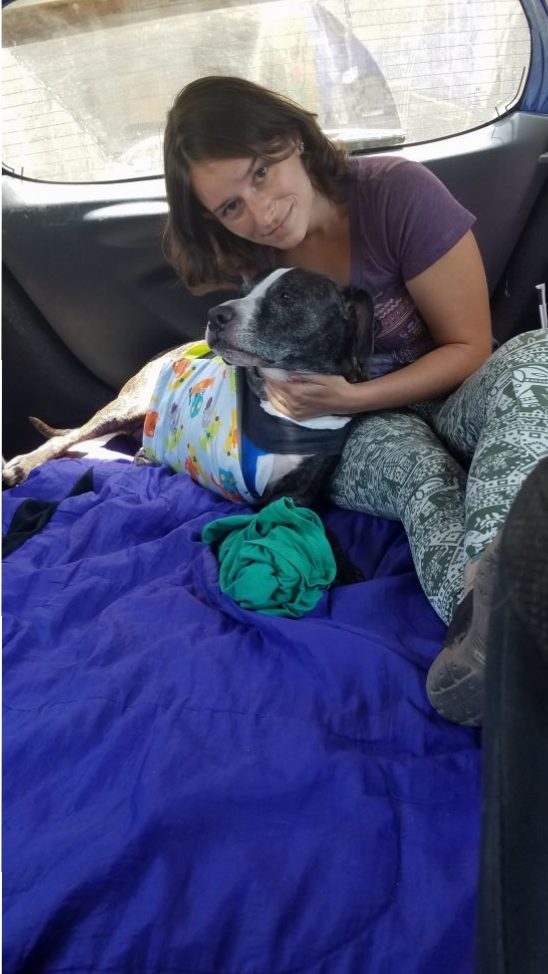 I left the hospital with a vet-wrapped bandage to keep everything secure. Mommy held me in place for the car ride with my nifty sling! Boy, was I happy to snuggle again! Daddy even stopped at Starbucks so I could have a cup of icy water. Mmm!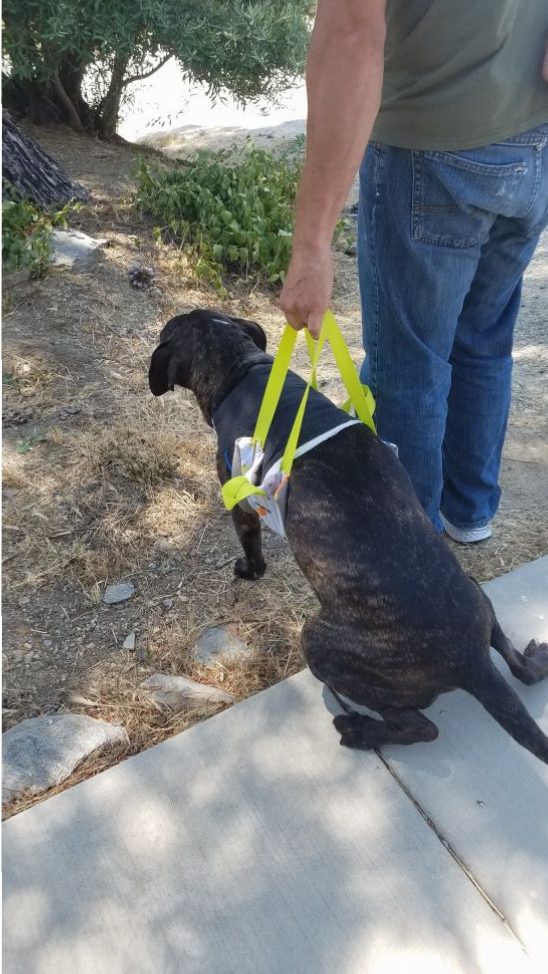 I had a nice pee when I got home! Daddy tried to help me walk, but I was feeling confident…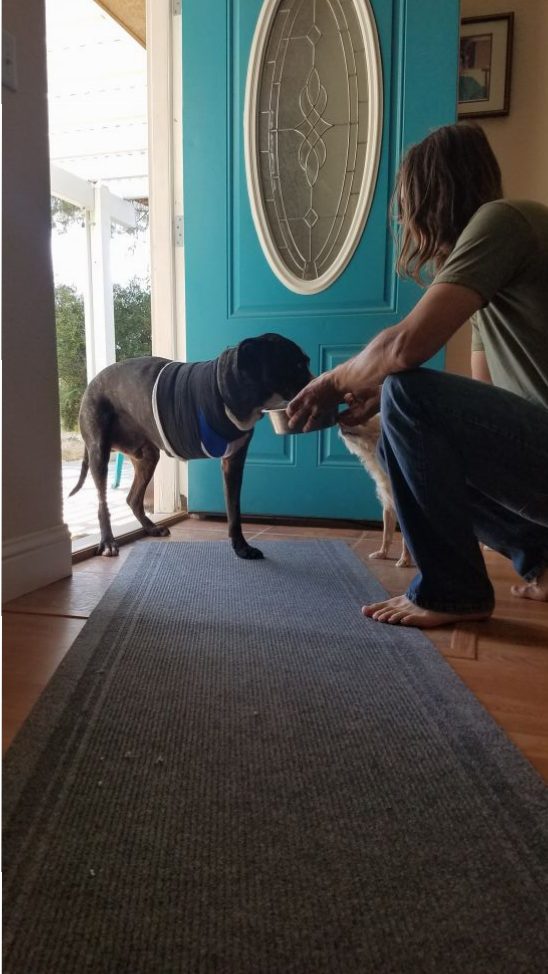 Just needed some water along the way!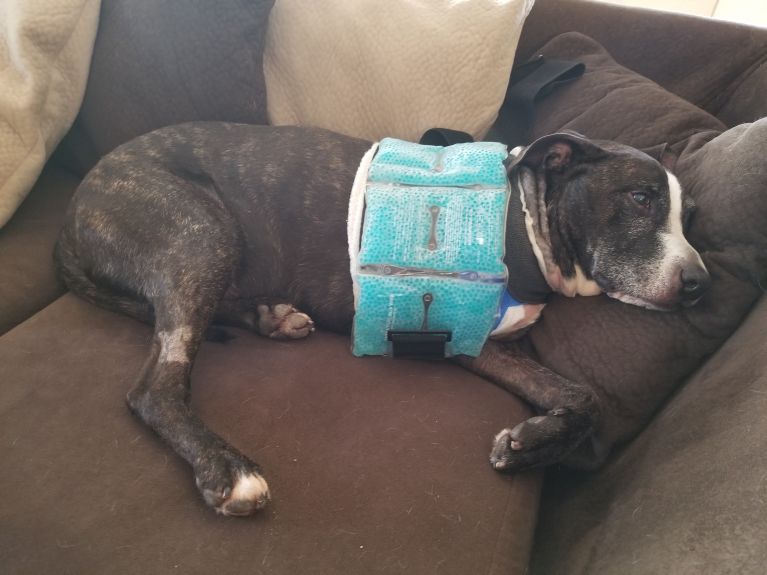 I refused to stay off the couch, despite numerous warnings that I might get stuck. Admittedly, I did get stuck, but we all worked it out. A little ice helped me feel better!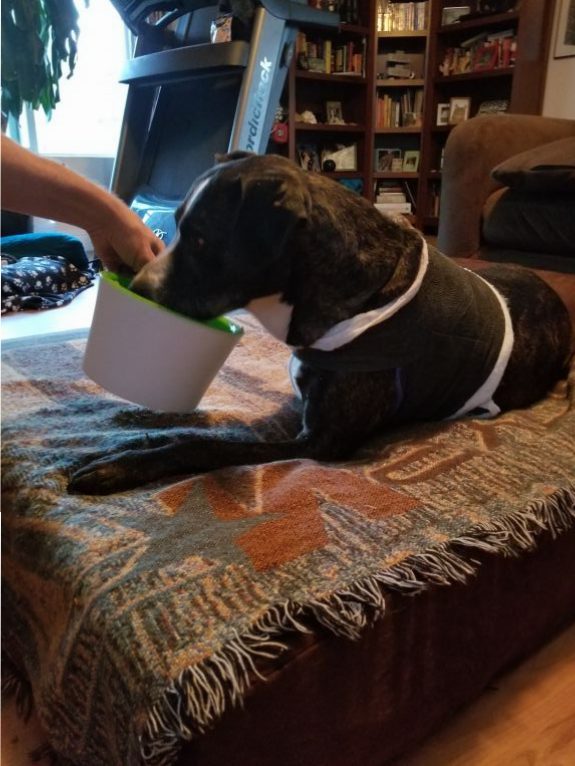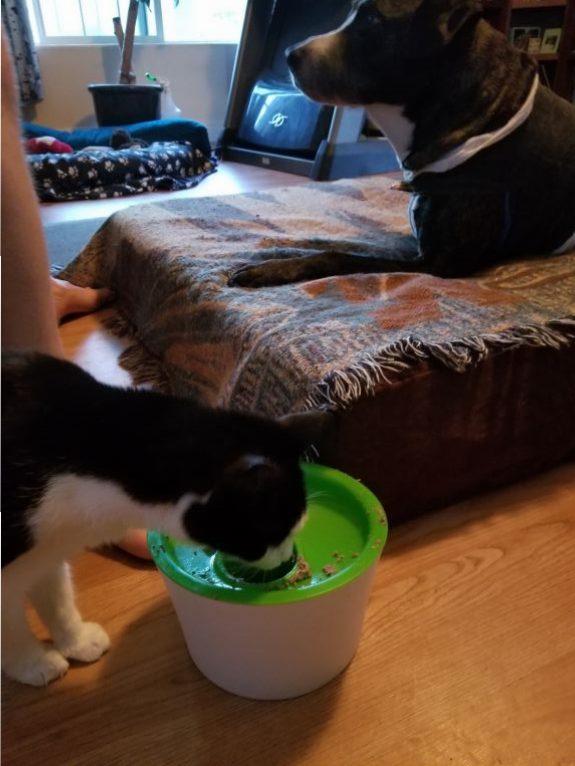 Daddy brought me a special dinner in my bed! I ate two whole cans of wet food! My new bowl hadn't arrived yet so he fed me from Roxbury's extra dish… I think she got confused, because as soon as I took a break she stole the rest!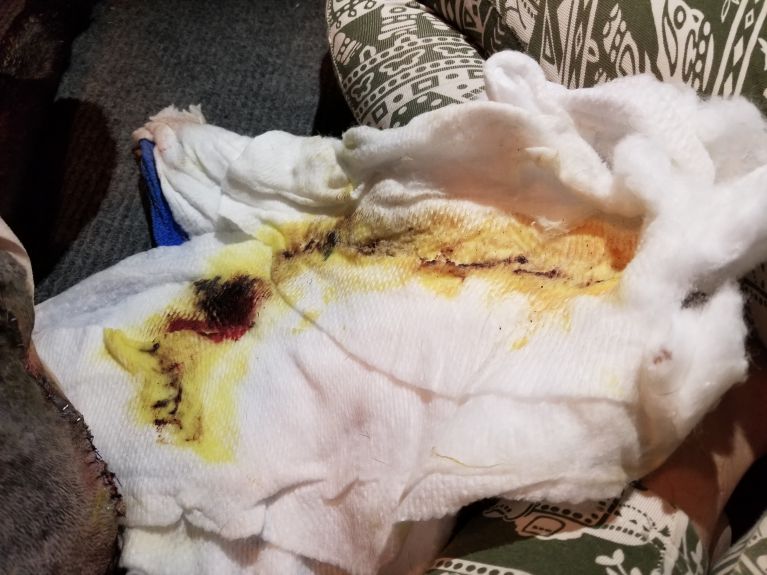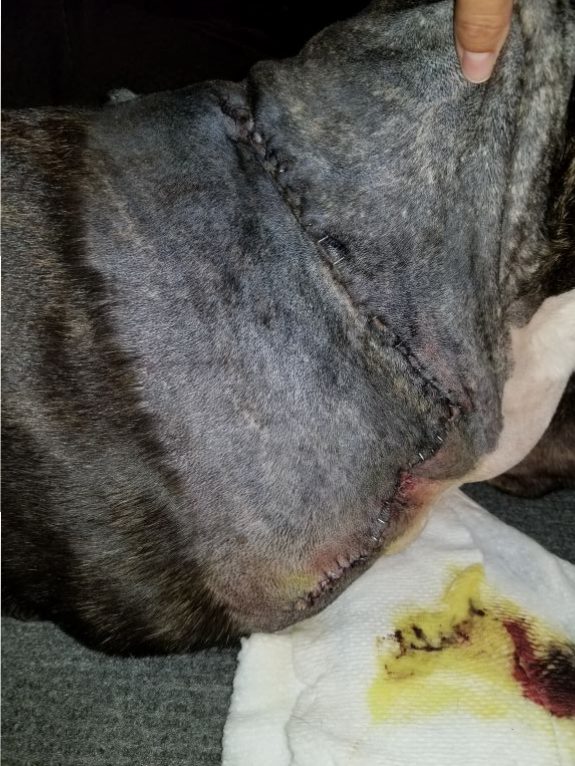 After dinner, Mommy changed my dressing. She used sterile saline and gauze to pat it clean, and then put a diaper on me all funny. She said it would catch any extra drainage, but I wasn't a fan. (Mommy reports that the yellow on the bandage is furazone.)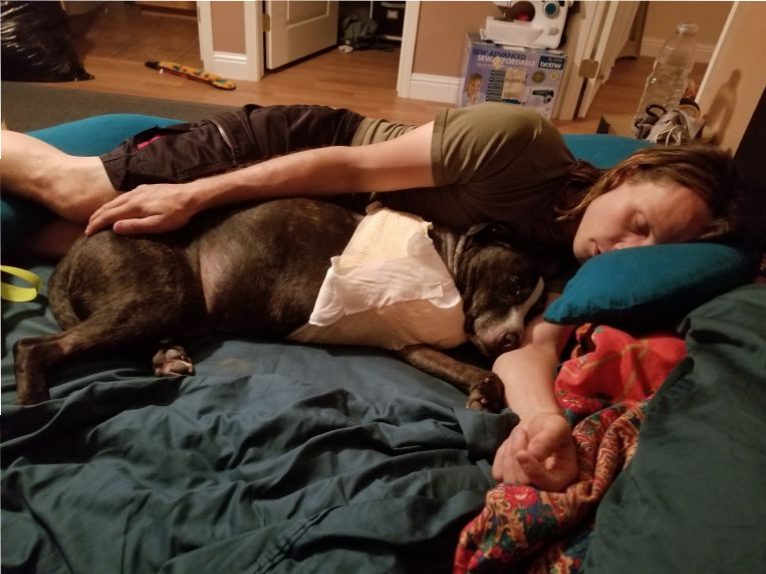 By nighttime, I was feeling really tired but just couldn't get comfortable. I tried cuddling with Daddy in bed, and in my bed, and couldn't make it happen. I'd peed a ton, pooped once, and yelped a few times. I was panting a lot, wide-eyed, and felt kind of lost and confused. Mommy and Daddy took shifts with me (mostly Daddy!) because I didn't sleep all night.
In total on my first day and night home, I had gabapentin 300mg q12h, carprofen 50mg q12h, an antibiotic in the evening, and two doses of subcutaneous buprenorphine. In hindsight, I think the buprenorphine made me a bit crazy, because by the time it started to wear off the next day, I felt like a new dog…